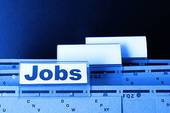 Job seekers often send their resume with "References available upon request" included in the document.  However, this information is unnecessary, as it is expected that you will be able to supply references, whether you have said so or not.  A reference listing (a separate page from your resume listing each reference and their contact information) should only be included with your resume if the job ad specifically asks for the listing.
Prior to any job interview, you should prepare a separate list of references you can leave with the interviewer.  This list should have the same heading design and font as your resume, and include each individual's name, current title, company name, business address (optional), email address, telephone number, and a short sentence on how this person knows you (Former supervisor at ABC Company).
Your references can and should include former supervisors, co-workers, employees, professors, vendors, and clients, as employers are not interested in talking to friends or family members, who typically know little about your work habits and abilities.  Before preparing your listing, always obtain permission from the reference directly, and let them know when you have provided their information to a potential employer.  Knowing about the specific job you have applied for will give them an opportunity to prepare for any questions the potential employer may ask them.
Once you have prepared your listing, make numerous copies to take with you to job interviews, so you can leave a copy with the interviewer(s).  Keep in mind that a letter of reference, no matter how glowing, does not have the same impact with employers as the ability to speak with your employment references and ask them specific questions about your performance and work ethic.
This article was co-written by Karen Silins and Janet Barclay, and their information is included below:
Karen Silins is a multi-certified resume writer, career, business and personal branding coach working with individuals and small businesses.  After graduating with degrees in education and vocal performance, she made her own career transition into the Human Resources realm.  Karen left Human Resources to become an entrepreneur and help jobseekers and fellow entrepreneurs achieve their goals.  She keeps current regarding trends in the resume writing, coaching, HR, small business and marketing industries by working daily with individual clients on resume development and career coaching, consulting for small businesses in business plan development, marketing, hiring and overall HR processes, and providing 50-70+ seminars and workshops annually to a variety of organizations in the greater Kansas City area.  She can be reached via her website at www.careerandresume.com.
Janet Barclay is a former employment counselor who helps career practitioners and other solopreneurs to maximize their online presence by creating websites and blogs as well as providing blog promotion, proofreading and editing, content management, and WordPress technical support services. She can be reached through her website OrganizedAssistant.com.