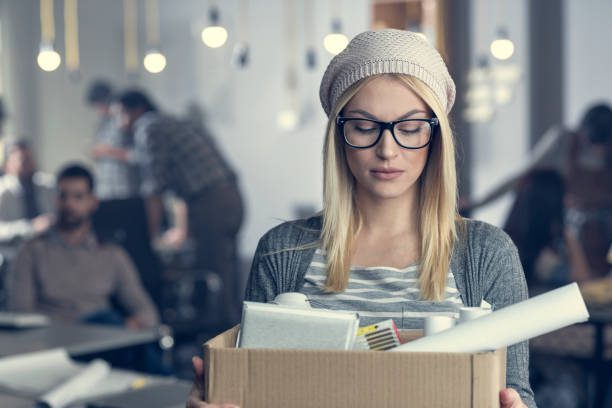 I was recently interviewed for an article with HerMoney.com based on the potential "Great Resignation" of employees who want to remain working from home after 15+ months of doing so. So, I am sharing it here on my blog, Twitter @KarenSilins, my Facebook Business Page APlusCareerandResume, and LinkedIn at www.linkedin.com/in/KarenSilins. Thank you to Casandra Andrews for the interview and feature!
As remote workers are called back into the office, and you're not nearly ready, what are your options?
For thousands of remote employees during the pandemic, working from home became the best thing they never knew they always wanted. We get it. Pants without zippers, fewer distractions, folding laundry while you Zoom, saving money by not commuting. The list goes on and on.
While many companies may never have a Monday through Friday in-office requirement again, others are already reverting back to the daily nine-to-five grind. As you can imagine, that option will no longer work for everyone.
"I'm definitely hearing from people who don't want to go back into the office," said Karen Silins, a career coach in Kansas City. "They don't want to go back because they are more productive and they found they really enjoy working from home. The other big issue is health. The vaccine does not completely protect you from COVID. It's like the flu shot… so a lot of people are still really nervous."
A new study by global staffing firm Robert Half shows about 1 in 3 professionals (some 34%) currently working from home because of the global health pandemic would look for a new job if required to be back in the office full time. Other research has shown similar results.
So if you work for a company that is DONE offering flexibility, what are your options?
DETERMINE YOUR TRUE NEEDS
Before making a snap decision, like firing off a quick letter of resignation, take time to assess your personal situation to figure out what you might lose or gain from leaving an office setting permanently.
When making big decisions, says Andres Lares, managing partner at Shapiro Negotiations Institute on Decision Making, it's helpful to use a decision-making model, which can include physically listing out all of the things that are important to you and then picking the few that are most important. For example, do you most value face-to-face team collaboration and communication or much more flexibility in your workday?
Once you figure out the most important criteria for the decision, give each a value. Then, narrow it down to the most important. Using 5 or 10 as values is often easiest, he says. Don't worry about getting the number perfect, but spend a little time trying to figure it out and try to focus on relative scores.
UNDERSTAND THE COST OPPORTUNITY
If you decide that one option for you is to return on a staggered or hybrid schedule, then the score for health and safety might be high, but you might score low on team collaboration and communication since there won't be as much overlap between colleagues if you're still working from home for part of the week.
EVALUATE, CHOOSE, THEN SLEEP ON IT
Work through your list objectively as you come to a decision. Then, and this is really important, sleep on it. Lares said this is a way to gain more clarity in your decision-making because you allow yourself the opportunity to view the choice through two lenses, both short and long-term.
Because our mood often impacts our decision-making, it's best to put some time between your first choice — especially when it can be life-changing — and moving forward with the decision. "Take your time to make the decision," he says, "but when you finally make it, be confident and swift about implementing it."
OFFER SPECIFIC, ALTERNATIVE PLANS
If you decide you are open to other work options, including hybrid schedules that would allow for some time in the office and some time working remotely, it won't hurt to ask your supervisor, or human resources representative, if they would consider alternative plans, at least in the short term.
The best way to go about this, Lares says, is to provide specific solutions that show you have considered their point of view as an employer. You could say "If you are open to other options, I have a couple of ideas to share that would work better for me at this time.'' Then list them out. Even if they don't seem receptive before you ask for flexibility, you lose very little by asking.
DEMONSTRATE YOUR PRODUCTIVITY AT HOME
If you want to continue working from home and don't want to find a new employer, another option is to show your boss what you have been able to accomplish away from the office.
"If you are a person who can be more productive or as productive, prove it," Silins says. Give examples of projects completed on time or early, show how losing your commute has meant more hours spent on work projects at home. Demonstrate that success can happen away from a cube farm.
CAN YOU AFFORD TO LEAVE YOUR JOB?
While some people manage to save a bundle while working from home, or have an emergency fund stashed away, others may not be in a place where they can spend a month or more looking for a new job that's completely remote.
Silins, the career coach, says she typically counsels clients not to leave their job until they find a new one, unless they can really afford to do so. However, she has had a few clients in toxic environments who couldn't afford NOT to leave. "You are stronger in the job market when you have another job," she says, "but when it becomes a danger to your health, and you are suffering from heart problems and anxiety issues, it's not worth staying."
Many times, Silins says, her clients who left the toxic job without another one already lined up felt so much better they were able to get a new job in a month or less.
Employers need to be aware, she says, that when they start requiring people to come back to the office, some employees will begin looking for other jobs. Some of her clients have already left jobs where they had to show up to an office in favor of 100% remote employment.
"Half of my clients are working remote jobs," Silins said. "They found things that required them to either have hybrid work environments or they went fully remote."
START SEARCHING FOR A NEW JOB
If your respectful request to stay remote is turned down and you simply cannot go back to an office right now, start your job search immediately. Before you write a letter of resignation, update your resume and freshen up your LinkedIn profile. Make sure to tidy up any other social media accounts, too.
Don't forget to let your family, friends and trusted colleagues know you are in the market for new work opportunities. Online job sites currently highlighting remote work include Indeed.com, Ziprecruiter.com and FlexJobs.com. Consulting a career coach is another option. Silins is a member of the National Resume Writers' Association.