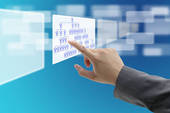 By Adrianne DeWeese – adrianne.deweese@examiner.net
Posted Feb 16, 2013 @ 12:20 AM
Independence, MO —
From the advent of online job-searching websites, many people have assumed they can go online, post their resume and automatically get a job.
That's not really how it works, said Karen Silins, president and owner of A+ Career & Resume LLC.
"It doesn't mean that people don't find jobs that way," Silins said, "but there are well over 100 million people on those sites, also looking for jobs."
As a resume writer and career/personal branding coach, Silins provides workshops throughout greater Kansas City, including with the Mid-Continent Public Library system.
Those on the search for a new job can put their time to better use, rather than just posting a resume on many job sites and facing potential privacy issues. Silins helped The Examiner in developing the Top 5 ways for effective online job searching.
1 USE JOB BOARD AGGREGATORS. Websites like indeed.com and simplyhired.com are examples of job board aggregators, which provide results daily on what new jobs are available. "That is going to save people a lot of time," Silins said. "If you have more than one specialty – and most people do – you might be doing more than one search for jobs out there." For example, searching "administrative assistant" could also require searches for "secretary," "executive assistant" and "office manager." When searchers find a job they're interested in applying for, Silins said they should go directly to the company's website to apply. "You are wanting to identify real companies," she said. "This protects your identity much more instead of just posting your resume all over the Internet."
2 GET ON LINKEDIN. LinkedIn, Silins said, "is networking online at its best." Users can build a profile, offer up information on their work history and education and provide what certifications, licensing and professional development they've earned. Under the "skills and expertise" section, users can provide keywords right off of their resume, showcasing traits important to their respective industries. Connections can then endorse their colleagues for their skills, as well as provide paragraph-length recommendations. "It's proof of experience by someone else saying, 'Yes, they can do this.'" Silins said. "There's nothing better than having that secondary opinion of someone saying, 'Yeah, we think they're great for you.'" Users can also join groups, where recruiters often offer up job opportunities that aren't found anyplace else. "It's another networking avenue," Silins said of LinkedIn. "It's going to allow you to connect with people who you would never connect with otherwise."
3 USE SOCIAL MEDIA RESPONSIBLY. Just because you have an opinion doesn't mean you need to give that opinion, Silins said. "HR immediately goes to online venues to search you out," she said. "They're going to Google your name. They're going to see if they are on LinkedIn – and then they are going to see what you are saying on Facebook and Twitter." What people don't realize, Silins said, is that they are making comments about their personal lives and opinions that aren't appropriate to be posting online, including pictures. "This happens a lot," she said. "And, it's not just pictures of partial nudity and people who are obviously drunk. It's pictures of people with way too personal of stuff that they don't need to be sharing online. I would just prefer that people don't post their opinions, but oftentimes, people think of freedom of speech." But, Silins said, with freedom of speech comes responsibility. "That responsibility translates into your job search, as well, and if employers don't think you are responsible, they won't hire you," she said.
4 BE CAUTIOUS WHILE BLOGGING. Use the same good judgment with blog posts as you would with social media sites, Silins said. If you choose to blog or make social media posts, make them tailored to your areas of expertise. "That's what personal branding is about," Silins said. "Personal branding isn't offering your opinion on every single little thing. Personal branding is discussing your areas of expertise." Do research to identify trends in your industry that you can talk about, as well as share information from other experts in the field, Silins said. She recommends her clients go to Google to sign up for Google blogs and Google news feeds, based on a digest of keywords they seek out. For example, Silins personally receives daily information on career coaching, personal branding, resume writing and human resources.
5 DO YOUR COMPANY RESEARCH. People often don't research the companies they are going to go to work for – and there is a lot of information out there, Silins said. Research should consist of more than just visiting the company's website and clicking on the "careers" tab, she said. Glassdoor and Manta are two popular websites that provide company profiles and information. Or, Mid-Continent Public Library has access to databases that allow company research for job seekers. All they need is a library card, and they can even do the research from a computer at home. "There's just a ton of information for people out there," Silins said, "but if all else fails, Google the company." Lastly, Silins said job searching isn't "just a numbers game," contrary to popular belief. "If you provide good information online, showcasing you are a professional in your areas of career interest and utilize the tools that allow you to do a more comprehensive job search, your success will increase significantly," she said.