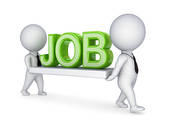 Let's face it, being in a job search is difficult.  However, not doing necessary tasks or leaving portions of your job search unfinished that can help you get a new job is even worse.  You could literally be losing out on new job prospects, contacts who will recommend you personally, and wasting a great deal of time doing personal "stuff" instead of actually job searching.  So, what's left unfinished or undone in your job search preparation?
–Have you completed your LinkedIn profile?
–Do you have a quality LinkedIn picture?
–Do you mind your manners and what you post on Facebook, Twitter and other social media?
–How about your friends on Facebook, Twitter, etc., are they minding their manners, and staying away from inappropriate pictures, political postings, constant complaining, or other overly opinionated sharing?  Have you checked?
–Do you plan your job search out daily or weekly?
–Are you spending five to eight hours a day on your job search, or instead doing "honey-do" and "around the house" projects and errands?
–Are you tailoring your resume and cover letter to the jobs for which you apply?
–Are you writing personalized thank you letters for all in-person interviews and any lengthy phone interviews with decision-makers?
–Are you searching your local business journal for companies hiring currently or in the near future, information on companies for interviews, networking opportunities, and new companies to target?
–Do you go to networking events in your area and cultivate contacts in person?
–Do you attend local job fairs?
–Have you volunteered to help a local organization to both get out and meet new people (network) and to add new information to your resume?
The list of items you can accomplish that can positively impact your job search can seem endless, but many are actually very simple.  You need to, as the Nike ads say "just do it."  Put together all the pieces of your job search puzzle and get back in the game!
+++++++++++++++++++++++++++++++++++++++++++++++++++
Karen Silins is a multi-certified, award winning resume writer, career, business and personal branding coach working with individuals and small businesses.  After graduating with degrees in education and vocal performance, she made her own career transition into the Human Resources realm.  Karen left Human Resources to become an entrepreneur and help jobseekers and fellow entrepreneurs achieve their goals.  She keeps current regarding trends in the resume writing, coaching, HR, small business and marketing industries by working daily with individual clients on resume development and career coaching, consulting for small businesses in business plan development, marketing, blogging, hiring and overall HR processes, and providing 30-70+ seminars and workshops annually to a variety of organizations in the greater Kansas City area.  She can be reached via her website at www.careerandresume.com.