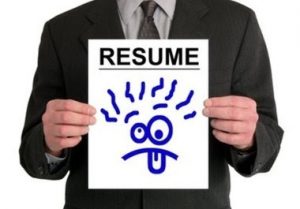 I found the above picture yesterday in a search for graphics, and it immediately struck me as perfect for my article. While everyone writing their resume is doing so in earnest and with the best information they have, often the person writing it may have received bad resume advice from friends and family, used poorly written sample resumes or just be winging it to get their resume done for a potential job.  There are several items that jobseekers put on their resumes that are unnecessary, take up excess space, and look unprofessional.  Here are a few I see on a regular basis:
–An Objective:  Instead of putting a tiresome, repetitive objective about how you want to work for a company that loves you and hugs you and will take care of you forever, how about the job title for the specific job you are applying for, and for which the resume is tailored.  There will be no doubt by the reader what you are applying for, and the job title is most likely a keyword in their system.  Then add a list of job/industry related keywords, or three bullet points highlighting great accomplishments, or a one sentence statement of purpose.  Make sure anything you use at the top of the document with your job title is also communicated in the body of the resume.
–References Available Upon Request:  The interviewers already know this, just bring your reference listing to the interview.
–Your Picture:  A picture on LinkedIn is great, but not on your resume.  Not only is there a potential for discrimination but the Applicant Tracking Systems (ATS) don't work well with pictures.
–Fancy Graphics:  Similar to above; this is great for handing your resume to someone, but not for the ATS.  Chances are the ATS won't be able to read the document, or it will place a multitude of unrecognizable symbols in your resume.
–Personal Information:  I have actually seen the following on resumes:   person is in "good health," has 10 children, height and weight numbers,  hobbies that are a little too personal and don't relate to the job or create interest, and spousal details.  Again, there is discrimination potential, and these items are not appropriate for the document.
–Obvious Skills:  Microsoft Office; it is always better to give the specific programs – like Word, Excel, PowerPoint and Access.  You can also do the following:  Microsoft Office:  Word, Access, Excel and PowerPoint, and then you have all the potential keywords.  Phrases like detail oriented, email usage, and problem solver can go away too, they are blaringly general.
–Be Detailed:   Never use general information and vague keywords when you can be precise or explain something in a reasonably short bullet point.  However, let's not use too short of a bullet point.  For instance, I see the following constantly on resumes: "Answer Phones."  That isn't a bullet point, it is a very short statement.  Here is a bullet that describes answering phones.  Answer five-line phone system, including distribution of calls to appropriate parties, and fielding of general inquiries.  A five-line phone system is a whole different animal, and tells a potential employer that the company you worked for was probably very busy, and you had a lot phone calls to manage.  The other merely says you know how to answer a phone.  In this case, more is better.  Avoid one and two word bullet points, they tell the reader nothing.
–Use of Responsibilities or Duties include:  Okay, I will come find you and tear up your resume if you use these phrases to begin a bullet point.  HR hates them, recruiters hate them, resume writers hate them.  Why, because they are overused!  Enough said, find a thesaurus for better action verbs.
–Unprofessional Email:  I actually saw this email address on a resume at a career fair – CMYNPPLRNG, yes, it says "see my nipple ring" in vanity plate parlance.  Also avoid your name and the year you were born – let's not just give things away.  How about using your name and the last four digits of your phone number or the numbers in your home address?
–Professional development or civic and professional memberships:  Want to provide meaning to your professional development, and professional and civic involvement, put a year, or year-to-year with it.  The date offers context to the reader as to how relevant and recent it is in your career.
–Outdated professional development:  Do you really remember that 1995 Project Management course – probably not.  So, instead go with the last 10 years, and only list the best of the best.  You can always take an addendum to the interview with a comprehensive listing of professional development, if in the last 10 years there are copious amounts.
Space is precious on a resume, whether you have a one-page or three-page document, you want everything on the document to be useful to the reader.  Remember, if your resume makes it past the ATS, and the initial 10-15 second screening, it will be read – make it all count!
Karen Silins is a multi-certified, award winning resume writer, career, business and personal branding coach working with individuals and small businesses. After graduating with degrees in education and vocal performance, she made her own career transition into the Human Resources realm. Karen left Human Resources to become an entrepreneur and help jobseekers and fellow entrepreneurs achieve their goals. She keeps current regarding trends in the resume writing, coaching, HR, small business and marketing industries by working daily with individual clients on resume development and career coaching, consulting for small businesses in business plan development, marketing, blogging, hiring and overall HR processes, and providing 30-70+ seminars and workshops annually to a variety of organizations in the greater Kansas City area. She can be reached via her website at www.careerandresume.com.