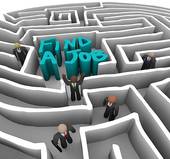 I am often asked by clients, seminar and workshop attendees and colleagues to recommend websites to bolster professional development, career and networking/business opportunities.  With the myriad of sites available on the Internet, culling the herd can be exhausting and time consuming.  My recommendations will come in blog posts over the upcoming months in three subject areas:  professional development sites for clients/jobseekers and colleagues, informational sites to keep up on the industry (more colleague focused), and social networking sites-why you need to be on them!  Today I start with two great sites for professional development, particularly for those that are unemployed, underemployed, or lack professional development opportunities in their current career.
Professional Development Sites
The American Management Association has wonderful free training for both jobseekers and industry professionals.  AMA may have determined that the paid memberships, while practical, left out segments of the population they felt were important:  the unemployed, underemployed and underpaid.  With large scale, multi-day training programs and memberships often unfeasible for these target groups, what could they do to help?  Offer a free membership and free and low-cost training options.  AMA creates brand ambassadors who, when gainfully employed or in a better financial situation, most likely take advantage of their paid training opportunities.  Furthermore, these individuals would share AMA programs with their new employers – extending the organizations influence, and filling training and development niches and gaps for these companies.
You can join by going to the MYAMA tab on the far right hand side of the page.  Once you are a member go to the INDIVIDUALS tab and click on WEB EVENTS, PODCASTS or ARTICLES AND WHITE PAPERS.  You can then take advantage of the free Webcasts, paid Webinars, free Podcasts, and free Articles and White Papers, which they have catalogued for members, and divided into various sections including Business Enhancement Skills, Communication Skills, Human Resources, Finance and Accounting, Sales and Project Management (to name a few).   Each Webcast lasts about an hour, each Podcast lasts approximately one-half hour and both are well worth your time.  Attention:  Webcasts are free, Webinars are NOT – but are worth the price!  Be sure to stay on the Webcasts unless you want to attend paid web events.
AMA also has a job board aimed at management positions, free monthly newsletters, events calendar, a LinkedIn group, and areas of the site devoted to government and enterprise-wide training needs for organizations.  The site is consistently updated with great content and navigation is straightforward.
This one should be a no-brainer for anyone in the Human Resources, Recruiting or Resume Writing and Career Coaching industry.  You can keep up with HR trends in hiring, recruiting, interviewing, salary negotiation, and any issues jobseekers and employees/employers face.  One caveat – the site seems to want a company email address and not a Yahoo, Hotmail, etc., personal email account, I am hoping this changes (or has recently changed).  My colleagues HR, Management and Training and Development clients will find this site useful as well.
Free webcasts are the attraction, and although they have paid levels of membership I have had a free membership for over six years with no issues.  Not only will jobseekers and industry professionals have access to new webcasts for free, there is a catalog of 1,500+ archived webcasts that you can access by going to the Webcasts and Events tab, then clicking on the drop down menu where it says Webcasts and the sub-menu on Archived Webcasts and Podcasts.  You have access to recent and upcoming webcasts (upcoming webcasts are also featured on the Home Page), often PowerPoint slides or accompanying presentations, and the recordings of the all the older webcasts.  Bonus:  Each one-hour webcast or archived webcast can be submitted to qualify for HR Certification Institute recertification credits.
Additional benefits include Virtual Conferences, a variety of HR Communities to join with topical blogs, free compliance forms, an HR Wiki, a LinkedIn group, and certification opportunities.  The site is well-maintained, and easily navigated.