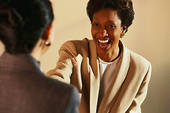 Clients regularly ask that I coach them through various interview questions, and one of the most requested is "Tell Me about Yourself."  I definitely understand why this question creates so much anxiety on the interviewee's part, mainly because they have no idea what the interviewer really wants from them.  Here is how I coach my clients, helping them to develop an answer prior to the interview with a bit of background but also pre-answering a few potential questions that make the response more complete.
1)    Keep the answer to between one and two minutes, not much more.
While I don't want my clients to just give the 10-second recitation on a couple of items from their resume and then stop (that is way too short of an answer), I also want them to avoid the 20 minute dissertation inclusive of oversharing.  While it might be interesting that you and your family moved from Detroit to Indianapolis when you were two-years old, this is not the time to relate that little tidbit along with an extended story.
2)    Offer up the best of the best from your resume/ work experience, encompassing credentials/certifications/licensing, education, achievements, awards, major presentations, and important documentation developed.  Be sure to keep these relevant to the job for which you are interviewing, and keep the list short.
3)    Give them a glimpse into your personal life, but within reason.  I tell my clients to use the following:
Books and magazines you read (mention two or three).  These should be business-related, motivational (Stephen Covey, Dr. Wayne Dyer, Brian Tracy), and depending upon the appropriateness of the specific subject matter, history-related or autobiographical.  If your main reading material is science fiction, romance, religious or political, although it may be interesting, refrain from sharing for obvious reasons.
Hobbies (again, just two or three).  Let these be undertakings that show you physically or mentally active, such as community involvement, chess, gardening, working out, running, walking, weight lifting, etc.  Spectator sports are fine too, though being active in something shows someone whose healthcare costs will be low (always a benefit).
Avoid most collecting activities as their appropriateness is often in the eye of the beholder, for instance (I use this in my seminars for a bit of humor), if you like to collect Nazi memorabilia, twist ties and cigarette butts, let that be your little secret.  I collect angels, but unless that interviewer's office is plastered with pictures and figurines of angels, it would be chancy to disclose.
4)    Pre-answer a few related interview questions:
Why are you seeking a new position?   Tell them if you were downsized or perhaps purposely left your last job.  Also, if it is a career transition, offer a brief explanation as to why.  The only caveat to this concerns being fired outright – and you will need to choose whether to address it now in passing or deal with it later in the interview.
What motivates you to stay in your current profession?  Tell them why you love your current career field or why you enjoy and selected the field you are transitioning into – and why you chose now to do it.
Why did you choose to apply to this particular organization?  Do your homework and research the organization.  Most jobseekers idea of company research is going to the home page of their website and clicking on the "careers" tab.  I encourage you to truly find out as much as you can about the organization, including what they sell (product, service or both), who they sell it to, their financial performance in the past few years, how many employees they have (local, nationwide, even globally), and any interesting recent news (Google them).   Now, before they ever ask you what you know about their company, you have given them a complete, yet brief answer.
If you use this "formula" to prepare your answer, then it will be complete, interesting, and provide the interviewer(s) some great information about who you are and why you are in that interview seat!