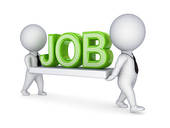 Being in a job search is difficult.  However, leaving portions of your job search unfinished that can help you get a new job is even worse.  You could literally be losing out on new job prospects, contacts who will recommend you personally, and wasting a great deal of time doing personal tasks instead of actually job searching.  So, what's left unfinished in your job search preparation?
–Have you completed your LinkedIn profile?
–Do you have a quality LinkedIn picture?
–Do you mind your manners and what you post on Facebook, Twitter and other social media?
–How about your friends on Facebook, Twitter, etc., are they minding their manners, and staying away from political postings, constant complaining, or other overly opinionated sharing?  Have you checked?
–Do you plan your job search out daily or weekly?
–Are you spending more time doing "honey-do" and "around the house" projects than searching for a job?
–Are you tailoring your resume and cover letter to the jobs for which you apply?
–Do you go to networking events in your area and cultivate contacts in person?
–Do you write (type) thank you letters after the interview to each interviewer?
The list of items you can accomplish that can positively impact your job search can seem endless, but many are actually very simple.  You need to, as the Nike ads says "just do it."  Put together all the pieces of your job search puzzle and get back in the game!